As Disney continues to promote this month's soon-to-be blockbuster Monster's University they've already begun getting ready to promote next month's blockbuster The Lone Ranger starring, Johnny Depp as Tonto and Armie Hammer as The Lone Ranger, due July 3rd. If you're as excited as I am to see this movie, then I urge you to read on with this blog for some cool news I've learned about that will be happening for this movie not only at Walt Disney World, but merchandising as well.
Let's start off with the official Disney website
Disney.com | The official Home Page for all things Disney
. If you were to go onto the website, click on Video then type The Lone Ranger in the Search Window, you'd fine nine videos all about the upcoming film, ranging from official trailers, to behind the scene featurettes , to even The Lone Ranger's addition to Disney's Infinity game. If you were to click on Store, then Characters, then finally the name The Lone Ranger , a page would come up with all cool sorts of merchandise like: a Tonto costume for boys, a white Lone Ranger hat for boys, a white Tonto headdress for boys, a limited edition Lone Ranger pin set, shirts for both men, women and boys, at least five different Lego playsets, a Deluxe 12 inch action figure of The Lone Ranger, as well as a Deluxe 10 and 1/2 Silver (I really hope they make a Tonto to go alongside this), as well as mugs, a pen set and a beautiful journal. Over at The Disney Store in your local malls, they too have been putting out Lone Ranger merchandise, some just like on the website. My last stop in there a week or two ago I saw the 10 and 1/2 Silver amongst a few other items, and with the movie still a few weeks away, I'm sure there is more items just waiting to fill both the stores' shelves and the website's pages.
In Walt Disney World's Hollywood Studios, starting June 14th through August 3rd, Disney is bringing you a ten minute extended trailer of The Lone Ranger that runs every 30 minutes. You can catch the extended trailer at the ABC Sound Studio. The trailer starts at 10am and runs all day until park closing.
Over in Walt Disney World's The Magic Kingdom in Frontierland at Pecos Bill's Tall Tale Inn and Cafe (which I personally think has the best burger on property) one can order a Root Beer Slush drink in a Lone Ranger Boot glass. The boot has in white The Lone Ranger written on it and underneath the badge of the Texas Ranger's. (Noting sounds better then sitting in Frontierland in Pecos Bill's, eating a hamburger and fries and have a nice cold Lone Ranger boot glass to drink from, only if it was filled with Coca-Cola, that would be delightful.) The boot and slush goes for $8.99 while you can order the slush minus the glass for $3.99. Personally, I'd just order the boot and ask them to fill it with a coke, and if they weren't aloud to do that, I'd just order the glass and ask them not to fill it with the Root Beer. The boot would make one fine addition to a collection, that is for sure.
(While this is not a Disney item, it is still cool.) For anyone who would like to know a little history about collecting items of The Lone Ranger, I would look no more than for Lee Felbinger's book The Lone Ranger: Collector's Reference & Value Guide. Felbinger has been collecting Lone Ranger items since he was a kid, and has one of the largetst collections in all the U.S., a collection that takes up 2 rooms in his house, and who seems like the leading authority on the hero when it comes to collecting, having appeared on tv and radio shows, as well as written many columns for various collecting magazines. One would only think that his collection is about to grow even more with the amount of new merchandise Disney is planning on putting out. You can find his book for sale over at Barnes and Noble (
www.bn.com
).
Finally, I thought I'd share the coolest thing yet Disney has coming out. These toys are tied into the Disney Infinity game I mentioned above, and are just truly cool and I love the cartoonish look to them. They are available for pre-order right now for $34.99 and will be available August 18th. The play set includes The Lone Ranger, Tonto, and the Landmark game piece (game itself is sold seperately). Below is an image, copyrighted of course to The Disney Store website. You can pre-order your set there.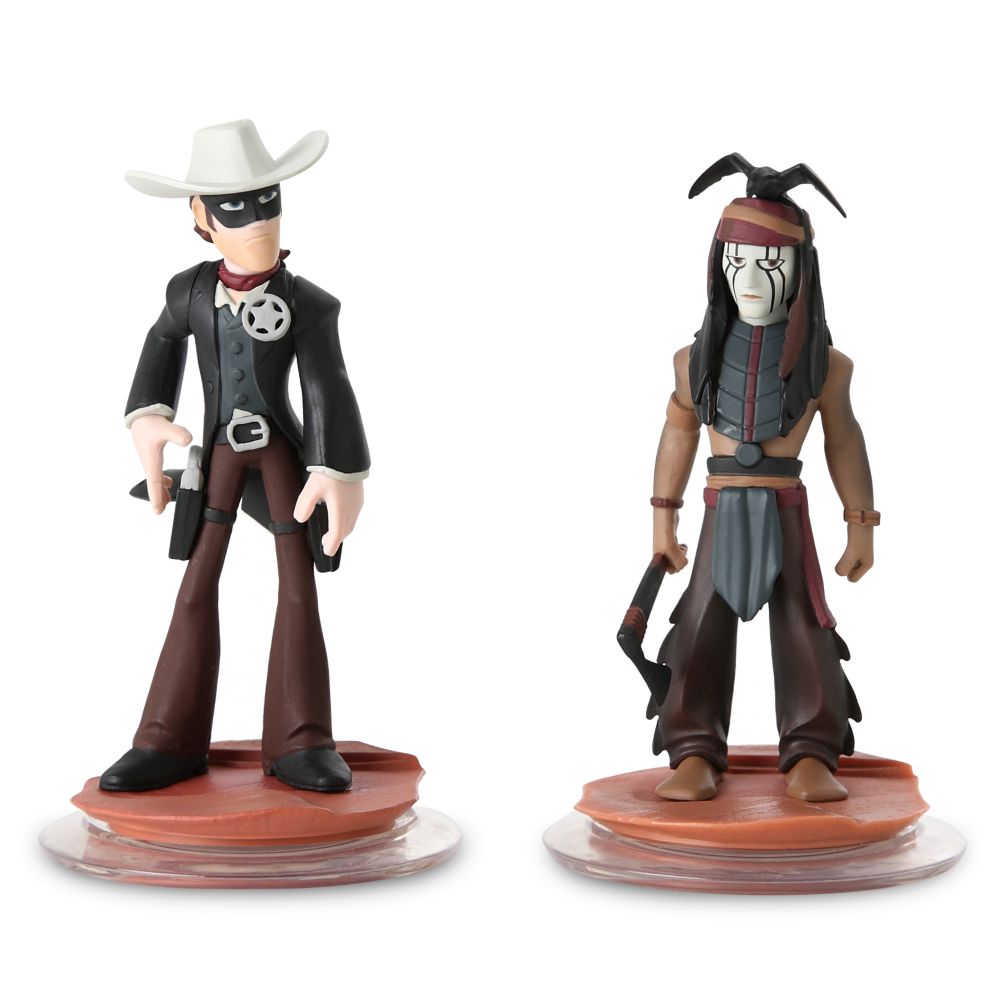 Well, that's it for now, Kemosabe's. I hope you enjoyed the post about the upcoming collectibles of The Lone Ranger, and I hope you enjoy the movie as much as I know I and my wife will.
Until next time,
Mr. Nostalgia